¡Reading this post will take you

11

minutos! ¡To enjoy!
A small tribute to the trench coat and how it becomes an essential wardrobe item during spring and autumn.
When you want to wrap up a bit but it's not too cold… When the weather is regular but spikes don't fall…. When you want to wear a cute coat without being too dressed up. ¡The trench coat is always there! It is an essential garment in any wardrobe and I would like to tell you about its history and some uses, utilities and curiosities of her in this post tribute to one of the most iconic garments in the history of the moda.
A little history of the trench coat
The trench coat is a garment traditionally used by men and women. It is a waterproof layer and often straight cut, that can also be worn around the waist with a belt.
He was born in Victorian England, when it became popular as a garment for men and women who worked in the fields. ¿Did you know that the trench coat was invented by Thomas Burberry in 1823? ¡Sí! This waterproof canvas coat became a fashion icon in the late 19th and early 20th centuries.. Although Burberry's original design was functional and practical, soon became a fashion item.
It was a practical and functional garment, that protected from the British weather while carrying out daily tasks, so you had to get something comfortable and durable. In the decade of 1930, the trench coat was embraced by the south of England as a symbol of rural lifestyle.
Over time, the trench coat became a more formal garment, associated with the lifestyle of the English aristocracy at the time when the bourgeoisie and the upper classes decided to replicate «rural values» inspired by everyday life.
The trench coat became very popular and began to «blow it up internationally» when used by the military during World War I y, posteriorly, among the civilians. ¡Even Queen Victoria was photographed in a trench coat!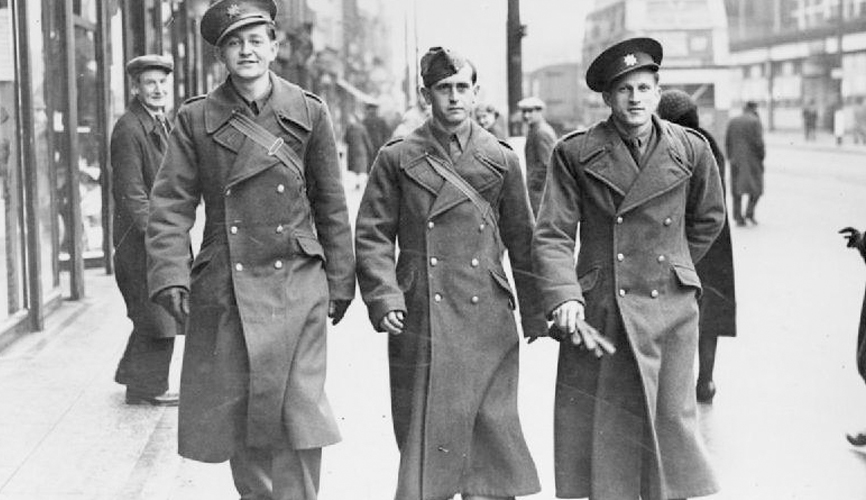 The trench coat is still a popular item of clothing today, for both men and women. It is a versatile garment that can be worn both in winter and summer.. Trench coats in bright colors and bold prints have been embraced by the fashion world., while more traditional trench coats remain a popular choice for those looking for a more classic look..
Trench coat curiosities
¿Who has not heard of the trench coat? It is one of the most popular and recognized garments worldwide.. Pero, ¿Did you know that this jacket has a long and interesting history behind it?? Here we leave you some curiosities that surely you did not know about the trench coat.
The trench coat was originally designed as a waterproof garment for men who worked outdoors..
The gabardine fabric is called «trench coat» in honor of its inventor.
In the decade of 1920 it began to be seen as a more formal item of clothing and became popular among the upper class.
In the decade of 1930, the trench coat was the protagonist of several Hollywood movies, which further increased his popularity.
In the decade of 1960, the trench coat became popular again among young people, thanks in large part to the music band The Beatles, who used it habitually.
In the decade of 1990, the trench coat experienced a new revolution thanks to the British fashion brand Burberry, who used it in many of his designs.
It remains one of the most popular clothing items in the fashion world., for both men and women.
¿How to choose (and buy) the perfect trench coat?
Next we leave you 10 tips to correctly choose a trench coat:
look at the fabric: the best quality trench coats are usually made of fabrics such as linen, the silk or the lana.
Make sure the trench coat is really waterproof and that it does not soak so that it fulfills its main purpose: protect you from bad weather.
Check that it has lining: the lining will protect you and the trench coat from daily use.
Choose a good quality trench coat: better quality trench coats tend to last longer and are more comfortable to wear.
Look at the details: quality trench coats often have details like metal buttons, lined pockets or belts.
Try the trench coat before you buy it: make sure the trench coat fits you well and you feel comfortable in it.
Choose the color of the trench coat that you like the most but always thinking about its usefulness and comfort: Trench coats are usually available in a wide variety of colors, but their continued use makes colors that are a little more neutral better..
Consider the season: if you are going to wear the raincoat in winter, choose a warmer model; if you are going to take it in summer, opt for a lighter trench coat. ¡Sí, there are trench coats for different climates!
Decide how much you are willing to pay: quality ones are usually more expensive, but it is worth investing in a good model.
Don't wait a «the offers». They are usually timeless garments so they are not usually available in discount seasons, so if you see one that you like, do not wait for the sales that may not arrive.
¿How to clean or wash a raincoat?
¿You want your trench coat to always look great? You must take care of it and wash it properly. if you take care of her, you can use it for many seasons. Follow these steps and you can always wear it perfectly. Pero, ¿How to wash and clean a trench coat so that it continues to comply and is perfect?
En primer lugar, you should keep in mind that not all trench coats are the same. There are different types of fabric and each one requires specific care.. Por ejemplo, woolen trench coats are more fragile than polyester ones. It is important that you read the care labels of the garment so as not to damage it.
The trench coat needs special care and proper washing. You should not wash it mixed with other clothes, much less with delicate fabrics (especially to take care of those tissues, since the buttons, strong rivets or seams of the gabardine can damage them?
The detergent you use should be mild and should not contain harsh agents.,, like bleaches, since the fabric is resistant but can be damaged.
Never use a dryer as the heat and air from it can damage and deform the fabric. You must dry the raincoat in the open air.
If the raincoat has a specific and large stain, better remove it by hand. To do it, you must fill a container with warm water and mild detergent and use a sponge to avoid scratching the fabric or damaging the color.
when in doubt: ¡to a professional! If you think that your skill with the washing machine is not very great or that your raincoat may be a bit delicate, it is best to take it to a dry cleaner to have it cleaned professionally.
Following these steps will help keep your trench coat in good condition and allow you to wear it for many seasons..
¿How to combine it in your daily looks?
If you have a trench coat and you don't know how to combine it, here we leave you some ideas of looks to inspire you.
1. With a dress: Perfect to give a more formal touch to a light dress (or lighter to a formal dress), either day or night.
2. with some jeans: a timeless classic. Jeans are a very versatile garment and combine very well with a trench coat.. In fact, it is the basic combination because jeans were also invented to work.
3. with a long skirt: if you want to give a more romantic touch to your look, you can combine it with a skirt and a sweater. It has a country touch and a bit bucolic.
4. With a formal shirt: perfect for day to day if you have to go to the office or a more professional environment. A white shirt and a trench coat are a very elegant combination.
El icono: The Burberry trench coat
The Burberry trench coat is one of the most iconic outerwear. Created by Thomas Burberry in 1823, It is characterized by its wool gabardine fabric, which makes it very resistant. Its velvet collar and leather lapels give it a very chic touch.. Y por supuesto, we can't forget the classic Burberry badge on the lapel.
One of the most recognizable things about this fashion piece is its print.: The Burberry trench coat print is a fashion icon. The brand has been using the same design since 1896, and since then it has been imitated by many other brands.
the stamping, one of the most iconic and recognizable in fashion, and has become a symbol of luxury and elegance, consists of small squares, usually blank, black and shades of brown and beige, that form a tartan very characteristic. Although the Burberry print is very recognizable, the brand has experimented with different colors and designs over the years.
A garment touched by the stars
From actors and singers to models and celebrities, they all wear the trench coat in style. And not only that, many historical figures, both real and fictional have made this garment their hallmark. ¿We review some?
The most famous fictional character of all time, Sherlock Holmes, always wore a trench coat. De hecho, it was one of the characteristics that made it recognizable. Not only was it a practical way to keep warm in the fog and cold of London, but also gave it an air of mystery and sophistication.
The most famous rock band of all time, Los Beatles, they also often wore trench coats, It was a way of positioning itself as a different music group, anchoring itself to a garment with a traditional touch..
Model and style icon like Kate Moss, Alexa Chung or Cara Delevingne are also big fans, as good british icon worth their salt. They often wear it in a very cool and casual way..
The trench coat has also been used in film and television as an iconic wardrobe item.. to the rhythm of «The Matrix», Trinity's character wears a black trench coat as she runs across the rooftops of the city. In Breakfast at Tiffany's Audrey Hepburn used it on several occasions and also in Rebecca.